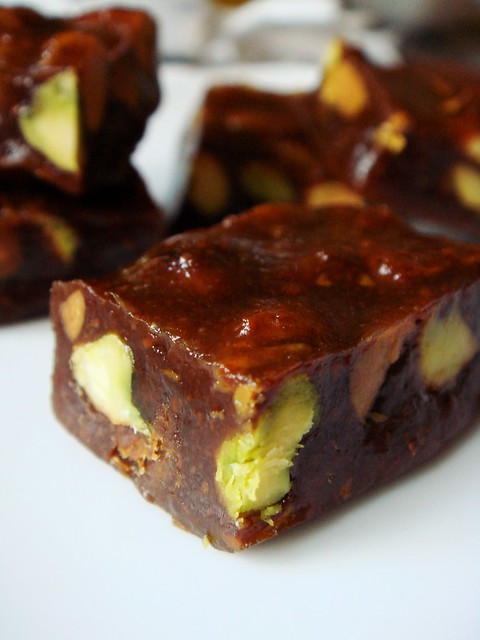 I was going to share another not-so-successful candy making experience with you today but got too excited by my new creation. I am familiar with making chewy soft caramel candies so it is no longer a culinary challenge. Last year, I made smoky maple and vegan coconut lime caramels with wonderful results. I learned that by using different sugar, syrup, liquid, fat, and flavouring components, there is endless room for creativity. Thanks to Dan Lepard's master recipe and detail explanation in Short & Sweet, I have free rein to experiment.
Traditional caramel uses cream to create a velvety rich smooth texture. However, it is not a hard and fast rule. I used coconut milk in a vegan version. Liddabit Sweets have a signature ricotta fig caramel that is one of my favourites. I love the idea of incorporating ricotta into caramel but not a big fan of the super soft rendition with Liddabit Sweets' recipe. The high ratio of dairy and low cooking temperature create a candy that melts much too fast in the mouth. I want something with a bit more chew and longer lasting enjoyment.
With ricotta as my starting point, I took inspiration from signature Italian ingredients. Roasted salted pistachios, olive oil, orange zest, and orange blossom honey play well with each other and my new creation is born. Did I just throw every Italian cliché into one pot?
I wanted a catchy name but naming things has never been my forte. I asked my friends for suggestions and Roman Holiday is really starting to grow on me. That is the first Audrey Hepburn movie I watched and remains my favourite. I vividly remember the carefree joy on screen as she rode on a scooter with newly chopped off hair. Unless a better suggestion comes up, I shall name my ricotta pistachio caramel Roman Holiday.
I cooked the caramel to 257F for a softer chewier texture. I love the contrast of savoury pistachios and olive oil with sweet caramel. Mild orange blossom honey reinforces the citrus note without being too assertive. I combined extra smooth whole milk ricotta with heavy cream and really enjoy the balance of dairy richness. Here is a brief version of the recipe, assuming you already have experience cooking caramel candies.
Roman Holiday Caramel
makes 18cm square slab, about 56 pieces
Ingredients
150g granulated sugar
25g water
50mL olive oil
75mL orange blossom honey
150g granulated sugar
100mL extra smooth whole milk ricotta
100mL heavy cream
100g roasted salted pistachios, chopped
finely grated zest from 1 orange
Method
Line a 18cm square pan with parchment paper.
In a medium sauce pan, cook 150g granulated sugar with 25g water undisturbed at high heat until the colour turns amber.
Move from heat and add olive oil, honey, remaining 150g sugar, ricotta, and cream. Stir to combine. Cook at medium high heat and stir occasionally until 257F.
Stir in pistachios and orange zest. Pour immediately into prepared pan. Cool for 2-3 hours until set.
Cut into pieces with lightly oiled knife and wrap pieces with waxed paper. Store at room temperature for up to three weeks.